concept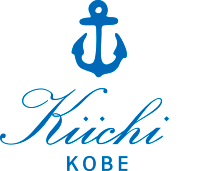 With a focus on Made in Japan branding,
Made in Kobe is the concept of Kiichi, a leather brand made in Motomachi, Kobe.
Continuing to create leather items with superb material.
Kiichiro's brand design makes the most of both advancements in quality of Japanese leather,
and the methodical nature of Japanese craftsmanship.
Because of this, Kiichi leather items continue to flourish,
alongside the City of Kobe, which also has a bright future…
Key elements of the brand Kiichi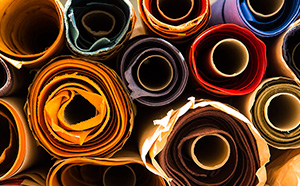 Leather

—
History of Japanese Leather

Hyogo Prefecture's Tatsuno City and Himeji City hold top place for leather production in Japan. Both of these locations are just 1 hour away from Kobe, making it an ideal setting for leather production. Due to the proximity of the tannery, I could visit the tanner numerous times to share what I was looking for, and am grateful to have had their kind cooperation. I think that the precision in the method chosen to create a leather as close to my vision based on their abundant experience in the field is something you can only find in Japan. Hardness and strength are tested according to JIS standards, and finally suitability to purpose of use is verified.
Test the degree of hardness and tearing strength, and make final confirmation such as appropriateness for products. Through repeated adjustments and changes, the final product is a Kiichi original leather item, not to be found elsewhere.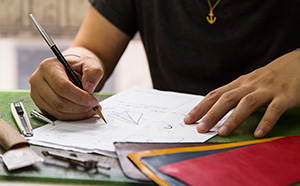 Design

—
Design that makes the most of its raw materials

Each and every tone of color is taken into careful consideration to achieve a well-balanced and complimentary color palate. Deliberate functional yet elegant touches give each and every piece and natural flow and air that makes them stand apart, yet is also an important factor in tying the design of a series together. These are items for daily use, so after a sample has been produced it is always tested through actual use to verify suitability of size, leather, thickness of gusset, depth and width of pockets direction when opening and closing, and more. Everything is tested and adjusted down to the very finest details. Kiichi leather products are designed with overall balance and functionality in mind.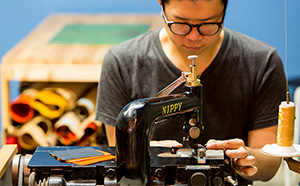 Production

—
Thoughts on the production process

In order for a single leather item to get from start to finish, novice craftspersons to masters are involved in the process. While leather items are small in size, they are made up of a huge number of parts, and so there are equally as much steps involved. Young novices work diligently, while the master craftsperson supervises all the parts of the product, and adds the finishing touches. In this way, a single leather item made by Kiichi has been contributed to by many people. And it is the warmth of the hands of these many people that continues to produce Kiichi's leather products.
Profile
Kiichi's owner and designer Kiichiro Katayama's family ran a shoe store, established in 1917. He was raised in close contact with the people of Motomachi's shopping arcade and the manufacturing that happened there. Katayama utilized his knowledge of leather gained from working with Kobe Shoes (Kobe is esteemed for its excellent shoe production throughout Japan even to this day), and continues to choose only Japanese materials for his leather goods made with Kiichi.
He worked as a merchandizer in Nagoya after graduating. Later her returned to the family business, where he applied himself daily to obtain skills and knowledge about shoes, leather goods, bags etc. and other leather products from the craftspersons there.
Owner & Designer Kiichiro Katayama